'Akko – Bahjí Tour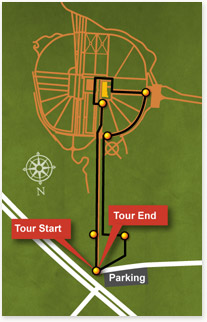 Large map
(Adobe Acrobat 84KB)
This tour begins at the main entrance of the Bahá'í' Gardens in 'Akko. After a brief introduction to the site and its significance, the group will walk down the long, straight approach path. On the way, they will learn about the successive banishments which brought Bahá'u'lláh to 'Akko in 1868 and about the English professor who visited Him here in 1890.
At the heart of the site, the guide will point out landscape design elements reminiscent of Versailles, Babbacombe Downs in England and the classical Persian garden. The group will have the option of visiting the Shrine of Bahá'u'lláh, with its interior garden and simple dignity. The guide will then lead the way past the mansion where Bahá'u'lláh spent the last years of His life, pointing out the colorful frescoes commissioned by the previous occupant, the Christian merchant Udi Khammar. The group will return through the gardens to the Visitor Centre near the entrance, where they can view the exhibits and, if desired, watch an informational film.
This tour takes approximately an hour. Although it involves about a kilometer of walking, it is mostly over level ground. A shorter version of the route is wheelchair-accessible.